The Most Outstanding Smart Romance Novels
…for lovers of unconventional storylines.
Smart romance novels are my second favorite trope (or style), right after slow burn romance – and if the storyline includes both, even better!
What I love the most about smart romance is the intellectually stimulating subject matter, the quirky characters, the whip-smart banter, and the thoughtfully layered/intricately woven plot lines.
Typically, at least one of the characters is unconventional and quirky, may be socially awkward, and has hidden (or not-so-hidden) flaws in their character.  These are the traits that make me feel for a character and fall in love with them a little harder.
In smart romance books, the author's writing style is typically plucky yet informative, sometimes includes technical or educational data/terminology, and usually involves rich plots of layered details.  The story doesn't have to center around STEM topics for it to be smartly written, though.  For me, I think it is more that the author thinks outside of the box and does things a little unconventionally from 'normal' romance devices.
Also, the banter is a strong selling point for smart romances.  Oh, how I love the banter—especially when it's done right.  Snappy and intellectual dialogue truly makes a book stand out for me.  Smart romance usually takes the dialogue and elevates it to a true art form.  I love it! 
I hope you find this helpful and be sure to check back or bookmark this page, as this list will continue to be updated!  For more romance book lists, click here.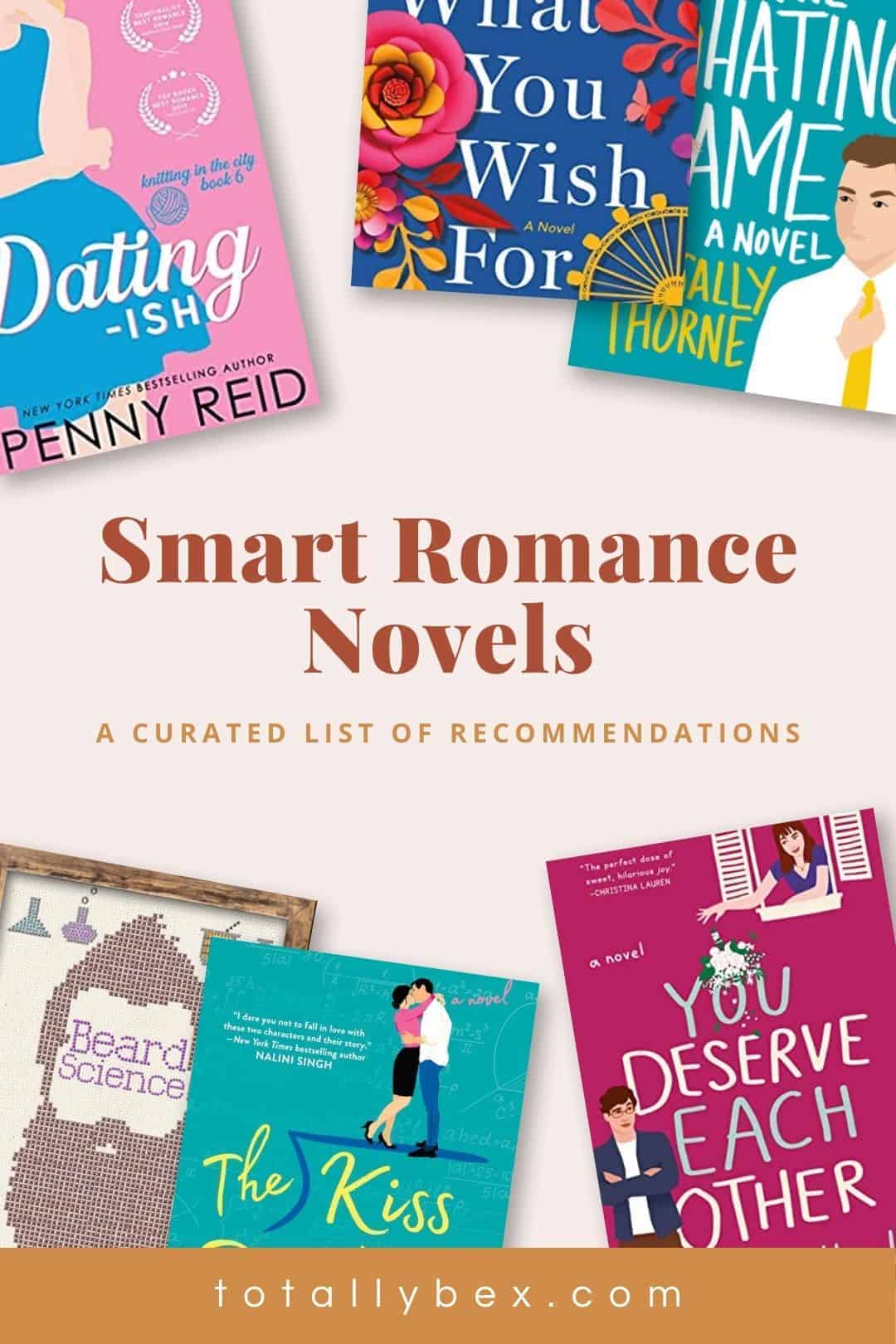 My Top 3 Favorite Smart Romance Novels
If I had to pick just three smart romances to recommend to readers, it would be these books.  They top my list of personal favorites, as they are the books that I loved the most, and I suggest you give a try, especially if you are new to smart romances.
1) Beard Science by Penny Reid
Penny Reid's name and brand are ubiquitous with smart romance.  In fact, she's the first author that comes to mind when I hear the term.
Almost every book she has written fits the description, so she's on this list multiple times.  However, my favorite character has to be Cletus Winston.
Now, this is the third book in the Green Valley Series, and while it can technically be read as a standalone, I do recommend reading the previous two books to get the entire "Cletus Effect".
2) Dating-ish by Penny Reid
Are you noticing a trend here?  There's a reason that Penny Reid is highly recommended on this list, and Dating-ish fits my "smart romance criteria" to a T.
Marie is a journalist looking for love in the modern age and Matt is a scientist working in artificial intelligence. 
See what I mean?  Do yourself a favor and grab a copy of Dating-ish to experience the goodness for yourself!
2) The Hating Game by Sally Thorne
You may have noticed this one on my Best Slow Burn Romances list, but I just had to include it here.  Lucy and Joshua are the epitomy of smart characters with their quirks, unrequited love, and enemies-to-lovers journey.
Smart Romance Books I Have Read and Reviewed
These are the smart romance novels that I have read and highly recommend.  There is a spoiler free review for each, plus several also include excerpts, which will give you a good idea of the author's writing style and dialogue.  I highly recommend all of these books!
Smart Romances I Have Read and Highly Recommend
These are books that I read and loved, but do not have a review on this site.  
Click on the cover to read the synopsis for the book, plus purchase links.