Thank you to the author for the advanced copy of THE PLAYER by Claire Contreras.  All opinions are my own.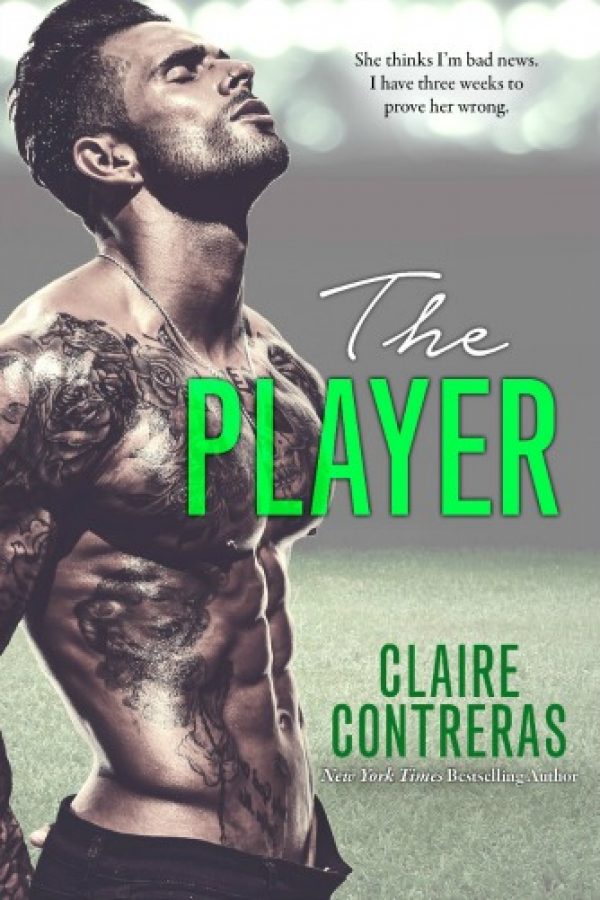 I'm naturally gifted on the field and between the sheets. With flashy cars and enough media attention to put the Royal Family to shame, I'm the definition of Most Eligible Bachelor.

I've never met a man who doesn't want to be me or a woman who doesn't want to tame me. Until I meet Camila.

From the moment I lay eyes on her, I know I have to have her.

She wants to keep me at arm's length.
I want her naked in my bed.

She thinks our worlds are too different.
All I want her to think about is screaming my name.

She says I'm bad news.

I have three weeks to prove her wrong.
Note: Clicking links on this site will take you to the retailer's purchase page.
Totally Bex is a participant in the Amazon Services LLC Associates Program, an affiliate advertising program designed to provide a means for us to earn fees by linking to Amazon.com and affiliated sites.

I haven't read a book by Claire Contreras in a while, so I was curious about her take on a sports romance.  Since I feel like I am a connoisseur of this genre, I can say with authority (ahem) that it's very well done and checks all of the boxes I look for in a sports romance.  The Player has just enough drama, a touch of angst, some major sexual tension, and a little bit of the unexpected–all in just the right doses.
Camila lives in Washington Heights, New York and works as an urban planner for a non-profit. She loves her family and she loves her job.  Her family used to have money and they lived in a nice area, but her father got into trouble and lost everything.  Instead of taking charity, she moved to an apartment in a not-so-nice area.  Her life is anything but simple, but she is happy.
After a falling out with his family, Warren doesn't return to New York until he has to. Since he left home at 14, he has become an international football (soccer) phenom.  His father is unwell, so Warren multitasks by checking on his real estate investments with his family's company.  They are planning to demolish and rebuild a block of Washington Heights, including Camila's apartment building.  After a community meeting, the fireworks explode between Camila and Warren.  She's a challenge for him and it leads to a slow-burning, sexy relationship.
I genuinely liked Camila.  She's one of the most honest and forgiving characters I have ever read in a romance.  Camila is independent, doesn't need a man to take care of her, and she doesn't even know who Warren is when they first meet.  I was drawn to the fact that she wasn't impressed by his money and he really had to work hard to get her to go out with him.  I love that they are opposites in just about every way and it works really well.  Claire may have had concerns about writing a sports romance, but she pulled it off without a hitch!
"Are you upset I crashed your friend-date?" he asked, his eyes searching mine.
"Would it make a difference?"
"No." He sighed, running a hand through his hair. "Maybe. This is new territory for me, Camila."
"The stalking thing?" I asked, smiling at his flustered look.
"That and . . ." he shook his head, moving close to me again, pressing me flat against the wall behind me, "this."
His free hand traveled down my spine, stopping on my ass, which he grabbed a handful of this time. My lips parted as I gasped, watching the way his eyes darkened. Our lips met at the same time, our tongues crashing in each other's mouths in a wild escapade. I wrapped my arms around his neck, willing myself closer to him. My pelvis rocking against his very pronounced erection, my bare chest covered by only the thin layer of fabric brushing against the buttons of his hard muscled chest.
"You're killing me," he whispered against my lips, taking hold of both sides of my face. "You're f*cking killing me and you don't even know it."
The fire inside me spread through me, roaring through my veins with each touch, each drop of his lips on a different part of me, my shoulders, my neck, my collarbone. My stomach ached with the absolute need I felt for him.
"I don't want to want you this much," I whispered when our lips broke apart again.
His eyes searched mine, his gaze softening. "But you do."
"But I do."
"And you can't will the feeling away."
I shook my head, looking at him as if he was going to give me some kind of antidote for this. Whatever this was.
"Neither can I," he said, placing his forehead against mine. "Neither can I."
Want more? Check out these posts!