10 New Romance Books for January 2021
This post contains affiliate links. If you make a purchase using that link, I will receive a small commission from the sale at no additional cost to you.
It's a new month and a new year, and so it's the perfect time to revive some of my favorite features on the ol' blog! 
I used to have monthly posts on upcoming releases, but that fell by the wayside when life got too busy to keep up with them. Well, the holiday downtime refreshed my resolve on posting more regularly, so I'm giving it my best shot.
I always like to know what is coming up in the new month to add them to my Goodreads TBR, so it was pretty easy to put together a list of 10 New Romance Books for January 2021.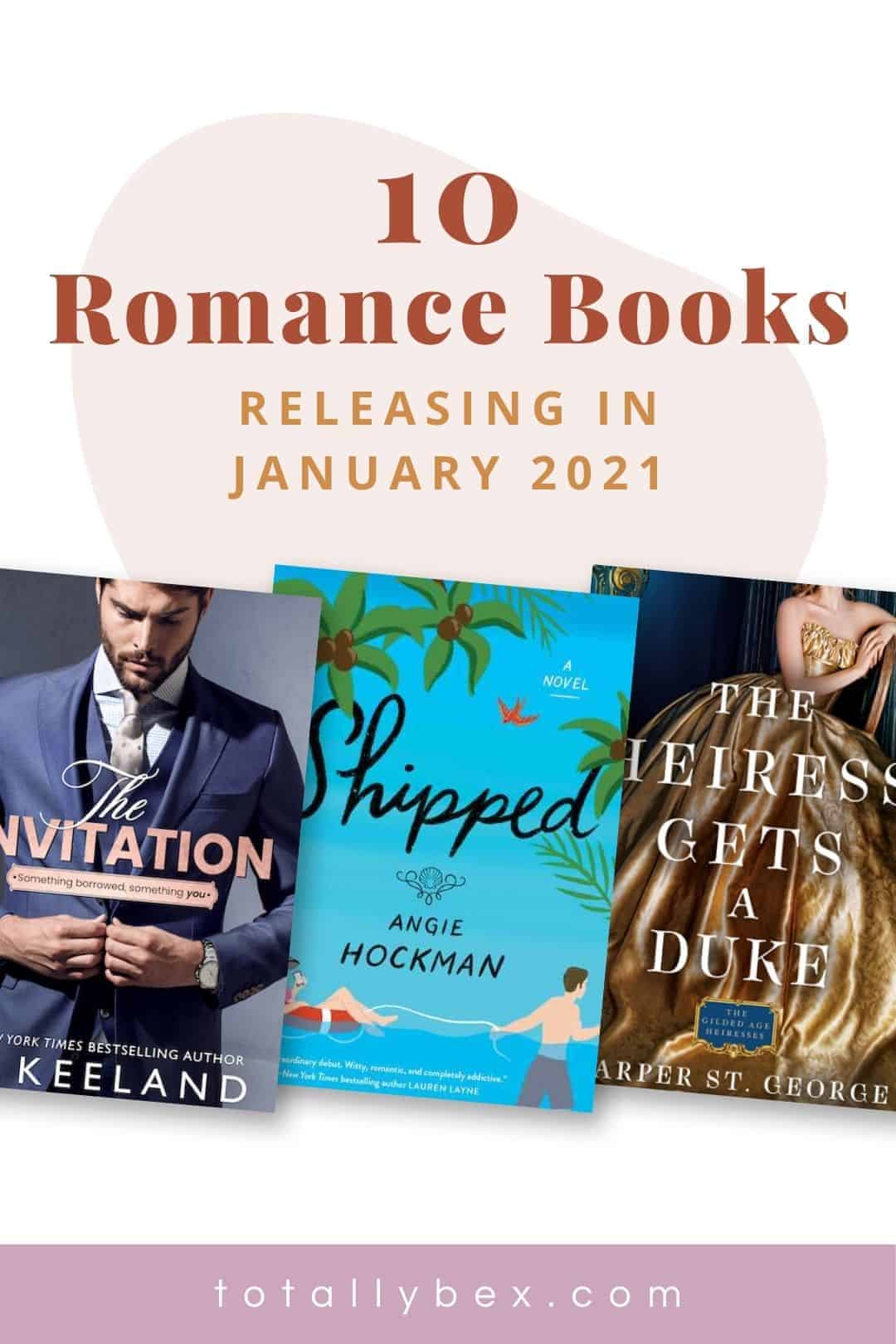 10 New Romance Books for January 2021
From vacation romance to wedding romance, there's a little for everyone this month!  There are several contemporary romances, a historical romance, a sports romance, a MM romance, and a young adult.
Be sure to click the "About the Book" label to read the synopsis and use the buttons below the book to head to Goodreads or to Amazon to grab a copy.
Also, if you're interested in new releases that are in Kindle Unlimited , Joy at HEANovelThoughts has a list for you!
The Strike Out by Meghan Quinn
Sports Romance | New Adult
Release Date: January 4th
It started with one night out with the boys.

She was the hot diner waitress putting herself through school.
I was the rich, arrogant player everyone misjudges.

On paper we didn't match.

Yet all it took was one day. One single day to change her mind.

She wasn't planning to spend her day off with me.
She wasn't supposed to fall for my charm.
But one day, one smile, turned into several nights of her calling out my name.

I'm not the guy she should end up with. I'm jealous, possessive. Not here for a long time – just a good time.

She's changed me.

But, for some reason, I feel her slipping through my fingers and no matter what I do, I fear I'm going to strike out with the one and only girl I've ever fallen for.
Ever After Always by Chloe Liese
Marriage in trouble | Slow burn
Release Date: January 12th
Aiden
I've spent twelve years loving Freya Bergman and twelve lifetimes won't be enough to give her everything she deserves. She's my passionate, tender-hearted wife, my best friend, and all I want is to make her happy. But the one thing that will make her happiest is the one thing I'm not sure I can give her: a baby.
With the pressure of providing and planning for a family, my anxiety's at an all-time high, and I find myself pulling away, terrified to tell my wife how I'm struggling. But when Freya kicks me out, I realize that pulling back has turned into pushing too far. Now it's the fight of a lifetime to save our marriage.
Freya
I love my cautious, hard-working husband. He's my partner and best friend, the person I know I can count on most. Until one day I realize the man I married is nowhere to be found. Now Aiden is quiet and withdrawn, and as the months wear on, the pain of our growing distance becomes too much. 
As if weathering marriage counseling wasn't enough, we're thrown together for an island getaway to celebrate my parents' many years of perfect marriage while ours is on the brink of collapse. Despite my meddling siblings and a week in each other's constant company, this trip somehow gets us working through the trouble in paradise. I just can't help worrying, when we leave paradise and return to the real world, will trouble find us again?
You Have a Match by Emma Lord
Release Date: January 12th
When Abby signs up for a DNA service, it's mainly to give her friend and secret love interest, Leo, a nudge. After all, she knows who she is already: Avid photographer. Injury-prone tree climber. Best friend to Leo and Connie…although ever since the B.E.I. (Big Embarrassing Incident) with Leo, things have been awkward on that front.

But she didn't know she's a younger sister.

When the DNA service reveals Abby has a secret sister, shimmery-haired Instagram star Savannah Tully, it's hard to believe they're from the same planet, never mind the same parents—especially considering Savannah, queen of green smoothies, is only a year and a half older than Abby herself.

The logical course of action? Meet up at summer camp (obviously) and figure out why Abby's parents gave Savvy up for adoption. But there are complications: Savvy is a rigid rule-follower and total narc. Leo is the camp's co-chef, putting Abby's growing feelings for him on blast. And her parents have a secret that threatens to unravel everything.

But part of life is showing up, leaning in, and learning to fit all your awkward pieces together. Because sometimes, the hardest things can also be the best ones.
Release Date: January 12th
Wanted: One roommate to share a 3-bedroom house, split the rent, and ideally not be the guy I can't stop thinking about.
I'm a man with too many secrets, so the last thing I need is a new roommate with a sexy smile and blue eyes that see right through me. Eight years ago, Roderick left town after high school. We're not friends. I owe him nothing. But back then, I let one of my secrets slip, and he's the only one who noticed.
Part of me knows I should run far, far away. But the other part wants him to come upstairs and spend the night. But if I let him in, I could lose everything.

Seeking: A room to rent in town. I'm tidy, have no pets, and I will feed you homemade bread.
I should probably add: Gay AF, and has no filter. It's no wonder my new landlord is so wary of me.
A smarter man would ignore those hot glances from Kieran Shipley. The broody lumberjack wants more from me than another homemade pretzel, but if I push my luck, I'll end up back on the street.
Too bad I've never been smart with my heart …
The Invitation by Vi Keeland
Contemporary Romance | Meet at a wedding
Release Date: January 18th
The first time I met Hudson Rothschild was at a wedding. I'd received an unexpected invitation to one of the swankiest venues in the city.

Hudson was a groomsman and quite possibly the most gorgeous man I'd ever laid eyes on. He asked me to dance, and our chemistry was off the charts.

I knew it wasn't a good idea to get involved with him, considering the wedding I was at. But our connection was intense, and I was having a great time.

Though the fun came to a screeching halt when Hudson figured out I wasn't who I'd said I was. You see, that unexpected invitation I received? Well, it hadn't actually been addressed to me—it was sent to my ex-roommate who'd bounced a check for two months' rent and moved out in the middle of the night. I figured she owed me an expensive night out, but I guess, technically, I was crashing the wedding.

Once caught, I couldn't get out of there fast enough. As I bolted for the door, I might've plucked a few bottles of expensive champagne off the tables I passed, all while the gorgeous, angry groomsman was hot on my tail.

Outside, I jumped into a taxi. My heart ricocheted against my ribs as we drove down the block—but at least I'd escaped unscathed.

Or so I thought.

Until I realized I'd left my cell phone behind at the table.

Take one guess who found it?

This is the crazy story of how Hudson Rothschild and I met. But trust me, it's only the tip of the iceberg.
Riley James has everything to live for, a business to grow, goals to achieve. After everything she's overcome, there's no way she's going to let anyone get in the way of her hopes and dreams. Not even a handsome businessman who makes her a crazy offer she would be even crazier to refuse.

Jordan West has everything a man could want. And yet it all feels so meaningless. But when tragedy strikes and he's entrusted with the care of a toddler, life doesn't seem so meaningless anymore. Jordan West suddenly has everything to live for. Problem is…how does he hold on to that feeling?
Enemies-to-lovers | Vacation romance
Release Date: January 19th
Between taking night classes for her MBA and her demanding day job at a cruise line, marketing manager Henley Evans barely has time for herself, let alone family, friends, or dating. But when she's shortlisted for the promotion of her dreams, all her sacrifices finally seem worth it.

The only problem? Graeme Crawford-Collins, the remote social media manager and the bane of her existence, is also up for the position. Although they've never met in person, their epic email battles are the stuff of office legend.

Their boss tasks each of them with drafting a proposal on how to boost bookings in the Galápagos—best proposal wins the promotion. There's just one catch: they have to go on a company cruise to the Galápagos Islands…together. But when the two meet on the ship, Henley is shocked to discover that the real Graeme is nothing like she imagined. As they explore the Islands together, she soon finds the line between loathing and liking thinner than a postcard.

With her career dreams in her sights and a growing attraction to the competition, Henley begins questioning her life choices. Because what's the point of working all the time if you never actually live?
The Ex Talk by Rachel Lynn Solomon
Release Date: January 26th
Shay Goldstein has been a producer at her Seattle public radio station for nearly a decade, and she can't imagine working anywhere else. But lately it's been a constant clash between her and her newest colleague, Dominic Yun, who's fresh off a journalism master's program and convinced he knows everything about public radio.

When the struggling station needs a new concept, Shay proposes a show that her boss green-lights with excitement. On The Ex Talk, two exes will deliver relationship advice live, on air. Their boss decides Shay and Dominic are the perfect co-hosts, given how much they already despise each other. Neither loves the idea of lying to listeners, but it's this or unemployment. Their audience gets invested fast, and it's not long before The Ex Talk becomes a must-listen in Seattle and climbs podcast charts.

As the show gets bigger, so does their deception, especially when Shay and Dominic start to fall for each other. In an industry that values truth, getting caught could mean the end of more than just their careers. 
Secrets and Lies…

I've lived the entirety of my life wrapped up in subterfuge for one purpose—revenge.

Through the years, I lived more as an enigma than a man.

For so long, I denied I had a beating heart of my own.

Until her. Until she unearthed the starving vessel inside, forced me to acknowledge it, forced me to understand that I'm capable of bleeding the same as any other.

For that, we paid. We're still paying.

Yet, she demands it still, the useless heart of the ruthless thief and shameless villain she fell for. My fear is, I'm no longer that man.

With the lies I've told, the life I've led, my mistakes are beginning to catch up with me, day by day, one by one.

This is my last chance, and I have no intention of losing her again, but as the deception of my past starts to unravel and close in, shedding my humanity may be the only thing that can save us both.

Maybe it's already too late. 
American heiress August Crenshaw has aspirations. But unlike her peers, it isn't some stuffy British Lord she wants wrapped around her finger—it's Crenshaw Iron Works, the family business. When it's clear that August's outrageously progressive ways render her unsuitible for a respectable match, her parents offer up her younger sister to the highest entitled bidder instead. This simply will not do. August refuses to leave her sister to the mercy of a loveless marriage.

Evan Sterling, the Duke of Rothschild, has no intention of walking away from the marriage. He's recently inherited the title only to find his coffers empty, and with countless lives depending on him, he can't walk away from the fortune a Crenshaw heiress would bring him. But after meeting her fiery sister, he realizes Violet isn't the heiress he wants. He wants August, and he always gets what he wants.

But August won't go peacefully to her fate. She decides to show Rothschild that she's no typical London wallflower. Little does she realize that every stunt she pulls to make him call off the wedding only makes him like her even more.
Are any of these books on your TBR?  I'd love to hear what's on your list for January, so leave me a comment below!