11 New Romance Books for June 2021
This post contains affiliate links. If you make a purchase using that link, I will receive a small commission from the sale at no additional cost to you.
Summer is finally here—although I can't believe it's June already. I'm ready for sunny days, moving into our new house, and doing a little bit of traveling this summer. 
I'm also ready for new books (as always) and June has some really good ones coming out.
I've got a new list of 11 New Romance Books for June 2021 chock full of new books from authors I love and a couple of new-to-me authors.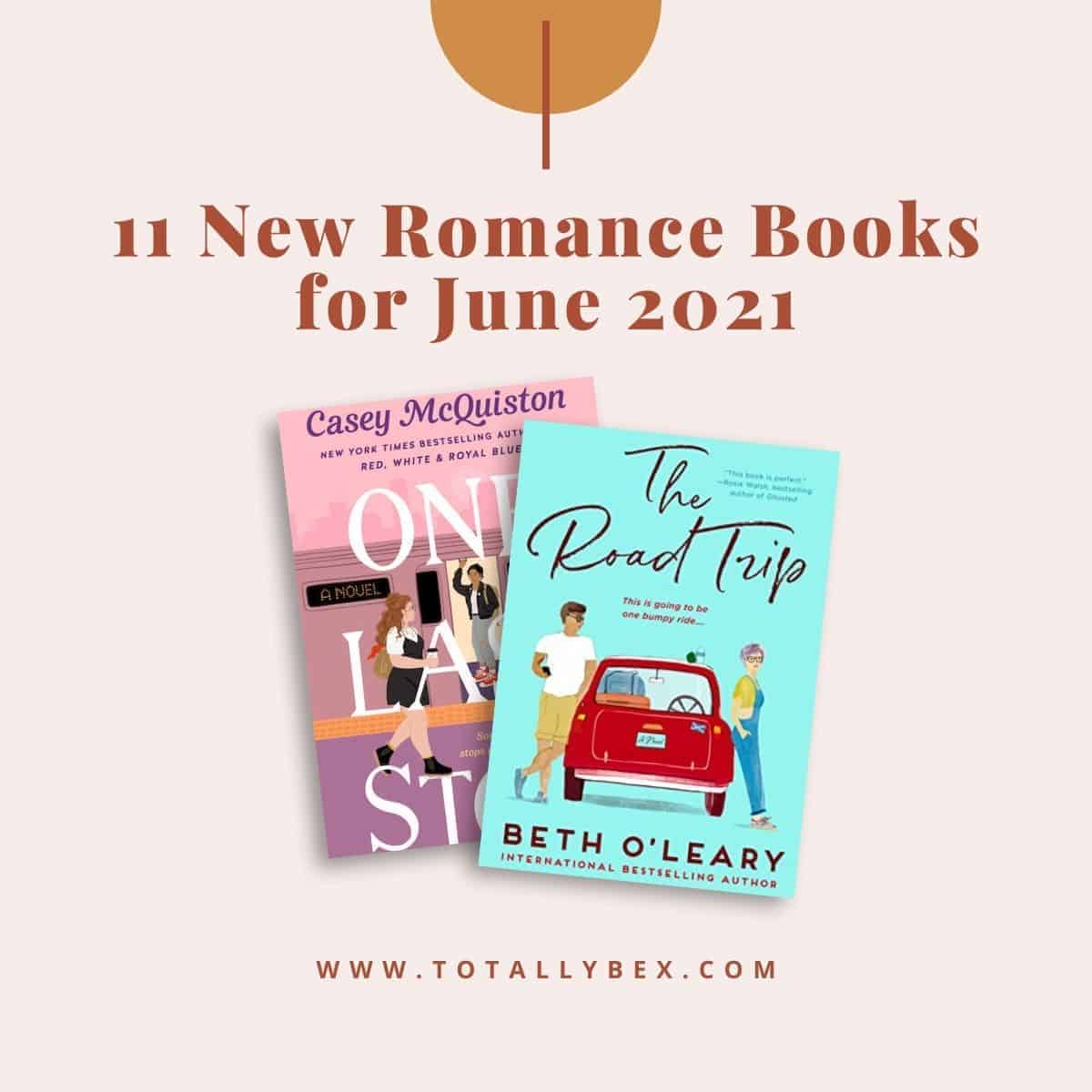 11 New Romance Books for June 2021
This month, there are several contemporary romance novels, a couple of historical romance books, a fantasy romance or two, and a family saga to add to your TBR.
Be sure to click the "About the Book" label below the book to read the synopsis and use the buttons to head to Goodreads to add it to your TBR or to Amazon to grab a copy.
If you're interested in new releases that are also in Kindle Unlimited, Joy at HEANovelThoughts has a list for you!
Malibu Rising by Taylor Jenkins Reid
Release Date: June 1, 2021
Malibu: August 1983. It's the day of Nina Riva's annual end-of-summer party, and anticipation is at a fever pitch. Everyone wants to be around the famous Rivas: Nina, the talented surfer and supermodel; brothers Jay and Hud, one a championship surfer, the other a renowned photographer; and their adored baby sister, Kit. Together the siblings are a source of fascination in Malibu and the world over–especially as the offspring of the legendary singer Mick Riva.

The only person not looking forward to the party of the year is Nina herself, who never wanted to be the center of attention, and who has also just been very publicly abandoned by her pro tennis player husband. Oh, and maybe Hud–because it is long past time for him to confess something to the brother from whom he's been inseparable since birth.

Jay, on the other hand, is counting the minutes until nightfall, when the girl he can't stop thinking about promised she'll be there.

And Kit has a couple secrets of her own–including a guest she invited without consulting anyone.

By midnight the party will be completely out of control. By morning, the Riva mansion will have gone up in flames. But before that first spark in the early hours before dawn, the alcohol will flow, the music will play, and the loves and secrets that shaped this family's generations will all come bubbling to the surface.

Malibu Rising is a story about one unforgettable night in the life of a family: the night they each have to choose what they will keep from the people who made them . . . and what they will leave behind. 
Since the loss of her fiancé, Anna has been shipwrecked by grief—until a reminder goes off about a trip they were supposed to take together. Impulsively, Anna goes to sea in their sailboat, intending to complete the voyage alone.

But after a treacherous night's sail, she realizes she can't do it by herself and hires Keane, a professional sailor, to help. Much like Anna, Keane is struggling with a very different future than the one he had planned. As romance rises with the tide, they discover that it's never too late to chart a new course.

In Trish Doller's unforgettable Float Plan, starting over doesn't mean letting go of your past, it means making room for your future. 
For cynical twenty-three-year-old August, moving to New York City is supposed to prove her right: that things like magic and cinematic love stories don't exist, and the only smart way to go through life is alone. She can't imagine how waiting tables at a 24-hour pancake diner and moving in with too many weird roommates could possibly change that. And there's certainly no chance of her subway commute being anything more than a daily trudge through boredom and electrical failures.

But then, there's this gorgeous girl on the train.

Jane. Dazzling, charming, mysterious, impossible Jane. Jane with her rough edges and swoopy hair and soft smile, showing up in a leather jacket to save August's day when she needed it most. August's subway crush becomes the best part of her day, but pretty soon, she discovers there's one big problem: Jane doesn't just look like an old school punk rocker. She's literally displaced in time from the 1970s, and August is going to have to use everything she tried to leave in her own past to help her. Maybe it's time to start believing in some things, after all.

Casey McQuiston's One Last Stop is a magical, sexy, big-hearted romance where the impossible becomes possible as August does everything in her power to save the girl lost in time.
The Road Trip by Beth O'Leary
Release Date: June 1, 2021
Addie and her sister are about to embark on an epic road trip to a friend's wedding in the north of Scotland. The playlist is all planned and the snacks are packed.

But, not long after setting off, a car slams into the back of theirs. The driver is none other than Addie's ex, Dylan, who she's avoided since their traumatic break-up two years earlier.

Dylan and his best mate are heading to the wedding too, and they've totalled their car, so Addie has no choice but to offer them a ride. The car is soon jam-packed full of luggage and secrets, and with three hundred miles ahead of them, Dylan and Addie can't avoid confronting the very messy history of their relationship…

Will they make it to the wedding on time? And, more importantly… is this really the end of the road for Addie and Dylan?
Teddy Phillips never thought she'd still be spending every day surrounded by toys at almost thirty years old. But working at a vintage toy store is pretty much all she has going on in her life after being unceremoniously dumped by her longtime boyfriend. The one joy that she's kept is her not-so-guilty pleasure: Everett's Place, a local children's show hosted by Everett St. James, a man whom Teddy finds very soothing . . . and, okay, cute.

Teddy finds the courage to write to him, feeling slightly like one of the children who write to him on his show. He always gives sound advice and seems like he has everything figured out–and he pretty much does: Everett has a great support system, wonderful friends, and his dream job. But there's still that persistent feeling in the back of his mind that something's missing.

When a woman named Theodora starts writing to Everett, he is drawn to her honesty and vulnerability. They continue writing to each other, all the while living their lives without meeting. When their worlds collide, however, they must both let go of their fears and figure out what they truly want–and if the future they want includes each other.
A prim and proper lady thief must save her aunt from a crazed pirate and his dangerously charming henchman in this fantastical historical romance.

Cecilia Bassingwaite is the ideal Victorian lady. She's also a thief. Like the other members of the Wisteria Society crime sorority, she flies around England drinking tea, blackmailing friends, and acquiring treasure by interesting means. Sure, she has a dark and traumatic past and an overbearing aunt, but all things considered, it's a pleasant existence. Until the men show up.

Ned Lightbourne is a sometimes assassin who is smitten with Cecilia from the moment they meet. Unfortunately, that happens to be while he's under direct orders to kill her. His employer, Captain Morvath, who possesses a gothic abbey bristling with cannons and an unbridled hate for the world, intends to rid England of all its presumptuous women, starting with the Wisteria Society. Ned has plans of his own. But both men have made one grave mistake. Never underestimate a woman.

When Morvath imperils the Wisteria Society, Cecilia is forced to team up with her handsome would-be assassin to save the women who raised her–hopefully proving, once and for all, that she's as much of a scoundrel as the rest of them.
Fortunate Son by Jay Crownover
Release Date: June 22, 2021
Ry Archer and Bowe Keller are as different as night and day. But that doesn't stop the childhood frenemies from reconnecting whenever one of them needs some help tackling any of life's major puzzles, like figuring out why getting what you always thought you wanted isn't living up to all the hype. They might constantly rub each other the wrong way (except for the times when they rub each other the really-really right way), but there is no denying they've always made one hell of a great team. They manage to balance each other out… when they aren't driving each other crazy.

For Ry, he thought he had the perfect girl, the one who was going to run headfirst into a methodically planned future. He was going to marry young and have the same kind of legendary, life-long romance his parents did… or so he believed. His girl was going to stand by his side as he chased his dream of being a professional football player all the way to the NFL.

He was wrong.

Now, Ry's gotta figure out the difference between a bruised heart and a broken one, and the only person who can teach him the difference is Bowe.

Bowe always felt like she had to run before she learned to walk to keep up with her father's musical legacy. He's her hero, and she wants nothing more than to make him proud. Bowe's about to figure out that maybe she wasn't meant to be in a rock and roll band, and that it is entirely possible she let her father's success cloud her idea of what making music should be. Bowe needs to find her own path to fame, and there's a good chance she wouldn't be brave enough or bold enough to start over if Ry Archer hadn't pushed his way back into her life when she least expected it.

Some days they're enemies. Other days they're lovers. For a while, they were strangers. But now, it feels more like they might've always been soulmates.
Eventually, Ry and Bowe realize that letting go of an old dream and creating a new one is much easier to do with the right person by your side.
Acting like she's in love with her handsome nightmare of a co-star–in a movie directed and produced by her complicated Hollywood royalty family–is Sloane's job. But what happens when the lines between script and reality get blurred?

Out-of-work actress Sloane Ford is in desperate need of something to do after losing her steady TV gig. When her famous family ropes her into working as a producer on their World War II-era romance, they neglect to mention that the film will be headlined by Joseph Donovan, her least favorite former co-star of all time. The roguish actor made her life a living hell the last time they worked together, using his movie star good looks and Irish charm to cover for his erratic professional behavior. On their new film set, he promises he's different now, but Sloane is far from convinced.

As filming gets underway, it becomes clear that anything that can go wrong will go wrong. When the lead actress is abruptly fired, Sloane agrees to step in and take over the role, and she starts to remember why she fell in love with acting in the first place. On camera, she and Joseph share an electric chemistry. Off camera, they've been honing their characters and, much to Sloane's surprise, growing closer. But playing the role of a woman in love with Joseph Donovan is a dangerous business, and the more time they spend together, the less Sloane can tell what's real between them, and what's just for show.
When Eva de Courtney kidnaps Godric Fleming, her only plan is to stop the irritating earl from persecuting her beloved brother. But once she has the intriguing rogue in the confines of her carriage, she longs to taste the passion she senses simmering beneath his rugged exterior. Her forbidden plan is foiled, however, when Godric turns the tables, taking her hostage instead—and demanding they marry at once…

The last thing Godric wants to do is make the fiery, impulsive Eva his wife, despite her delectable mouth and alluring innocence. He knows from experience that nothing is forever, not even love. But honor demands he do right by the lady, no matter how stubbornly Eva tries to hold on to her independence. And while the road to the Scottish border is beset with danger, Godric's greatest challenge is to keep his hands—and his heart—from his captivating bride-to-be… 
The Devil and the Heiress by Harper St. George
Release Date: June 29, 2021
Sparks fly when a runaway heiress bargains with a devilish rogue to escape a marriage of convenience.

No one would guess that beneath Violet Crenshaw's ladylike demeanor lies the heart of a rebel. American heiresses looking to secure English lords must be on their best behavior, but Violet has other plans. She intends to flee London and the marriage her parents have arranged to become a published author–if only the wickedly handsome earl who inspired her most outrageously sinful character didn't insist on coming with her.

Christian Halston, Earl of Leigh, has a scheme of his own: escort the surprisingly spirited dollar princess north and use every delicious moment in close quarters to convince Violet to marry him. Christian needs an heiress to rebuild his Scottish estate but the more time he spends with Violet, the more he realizes what he really needs is her–by his side, near his heart, in his bed.

Though Christian's burning glances offer unholy temptation, Violet has no intention of surrendering herself or her newfound freedom in a permanent deal with the devil. It's going to take more than pretty words to prove this fortune hunter's love is true….
To Sir, with Love by Lauren Layne
Release Date: June 29, 2021
Love Is Blind meets You've Got Mail in this laugh-out-loud romantic comedy following two thirty-somethings who meet on a blind dating app—only to realize that their online chemistry is nothing compared to their offline rivalry.

Perpetually cheerful and eager to please, Gracie Cooper strives to make the best out of every situation. So when her father dies just five months after a lung cancer diagnosis, she sets aside her dreams of pursuing her passion for art to take over his Midtown Manhattan champagne shop. She soon finds out that the store's profit margins are being squeezed perilously tight, and complicating matters further, a giant corporation headed by the impossibly handsome, but irritatingly arrogant Sebastian Andrews is proposing a buyout to turn the store into a parking garage. But Gracie can't bear the thought of throwing away her father's dream like she did her own.

Overwhelmed and not wanting to admit to her friends or family that she's having second thoughts about the shop, Gracie seeks advice and solace from someone she's never met—the faceless "Sir", with whom she connected on a blind dating app where matches get to know each other through messages and common interests before exchanging real names or photos.

But although Gracie finds herself slowly falling for Sir online, she has no idea she's already met him in real life…and they can't stand each other.
Which books are on your list for June?  I'd love to hear from you, so leave me a comment below!