8 of the Best Slow Burn Romance Books of 2020
Now that 2020 is over, it's time to reflect on some of our favorite reads of the year.  If you had a chance to check out my Best Slow Burn Romance Books of 2019 list, you know that I am always on the hunt for more slow burns. 
While I read just about any and all romance tropes, I don't tend to enjoy insta-love as much as I do the long-game in terms of character development and relationship growth that you find in slow burns. 
This year, I read some pretty darn good ones and I can't wait to tell you all about them!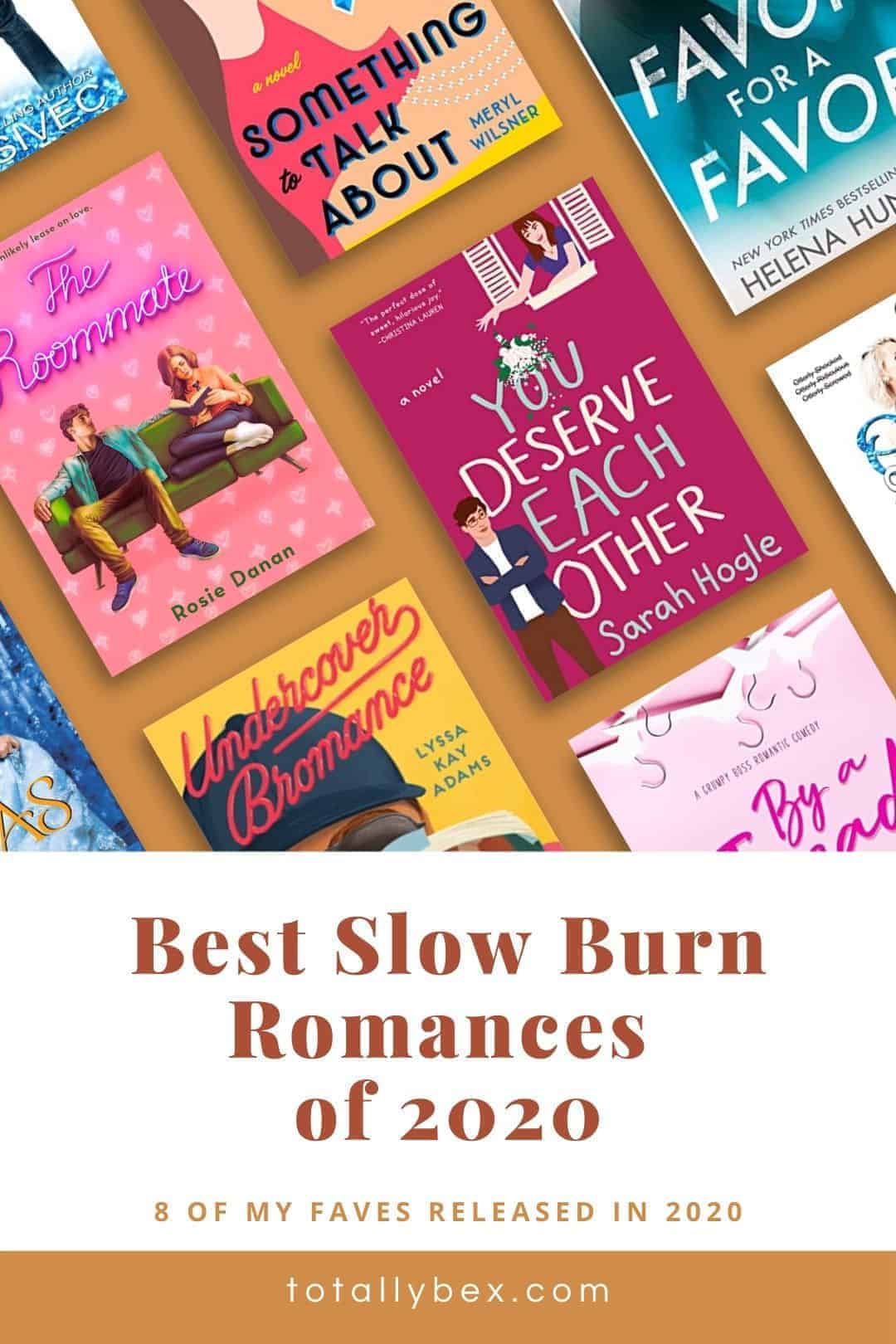 The Best Slow Burn Romance Books of 2020
Here's my list of the best slow-burning romance novels of 2020.  It includes contemporary romances, historical romances, romantic comedies, and more.  
I hope you find a book or two that you haven't read and will give them a try!
1. You Deserve Each Other by Sarah Hogle
Sarah Hogle did such an amazing job You Deserve Each Other.  
The storyline is such a unique premise for an established-couple romance, the writing and banter are razor-sharp, and the characters seem doomed to perpetual immaturity but surprise you with their growth.
Think Hating Game vibes…
2. A Favor for a Favor by Helena Hunting
I absolutely loved A Favor for a Favor!  Bishop quickly became one of my favorite heroes.  He's all gruff and grumpy and protective.  Yummy.
Bishop and Stevie have some of the hottest chemistry around.  The writing and characters are perfection, their banter is razor-sharp, the cat and mouse games are delicious, and their denial of feelings for one another makes you want to smoosh them together through sheer force of will— not to mention, it has one of the most acrimonious slow burns ever.
3. Something to Talk About by Meryl Wilsner
Something to Talk About is the romance debut of author Meryl Wilsner and she did such an amazing job with this story.  It has a great cast of characters, extra-personal office relationships, crisp and snappy writing, and the slowest of slow burns.
I loved the setting, the Hollywood politics, the character's backstories… just about everything, really.
4. Chasing Cassandra by Lisa Kleypas
I have enjoyed every book in the Ravenels series by Lisa Kleypas and Chasing Cassandra was no exception.  
The hero is an emotionally frigid genius, the heroine is lovely, kind, and wanting a marriage and family built on love. 
If you like loads of character and storyline development, you'll love this series.  Even a non-historical reader will love this.  Guaranteed.
5. The Roommate by Rosie Danan
Can a man and a woman share a house and be nothing more than roommates?  What if said roommate is an adult entertainer in the film industry?
The Roommate poses those questions and does a great job of answering them (hint: they can't).
Josh and Clara have amazing chemistry and the 'will they or won't they' make for excellent reading.
6. Undercover Bromance by Lyssa Kay Adams
I enjoyed Mack's character in The Bromance Book Club, so I couldn't wait to get his backstory. The result is a hilarious and surprisingly emotional slow burn with Thea's sister, Liv.
The entire gang is back for more shenanigans, but you can read this as a standalone with no problem.
7. Otterly Scorched by Tara Sivec
Tara Sivec writes some of the most hilarious rom-coms around and Otterly Scorched will have you reading through tears of laughter.
The banter in this book is worth its weight in gold.  Plus, there are cute otters.  What more could you ask for?
8. By a Thread by Lucy Score
Gumpy boss.  Need I say more?
By a Thread is enemies-to-lovers office lovin' done right.  Dominic and Ally are total opposites, but their attraction is undeniable.
Dominic's dry sarcastic humor and Ally's sunshine personality will have you grinning throughout the 500+ pages.
Are any of your favorites here?  I'd love to hear your suggestions for more slow burns to add to my list, so leave me a comment below with your best reads!