14 New Romance Books for February 2021
This post contains affiliate links. If you make a purchase using that link, I will receive a small commission from the sale at no additional cost to you.
Ah, February–so happy to see you. Love is in the air, Valentine's/Galentine's Day is almost here, and a new month of romance books is upon us. 
Since it is the 'month of love', what better way to celebrate than with 14 New Romance Books for February?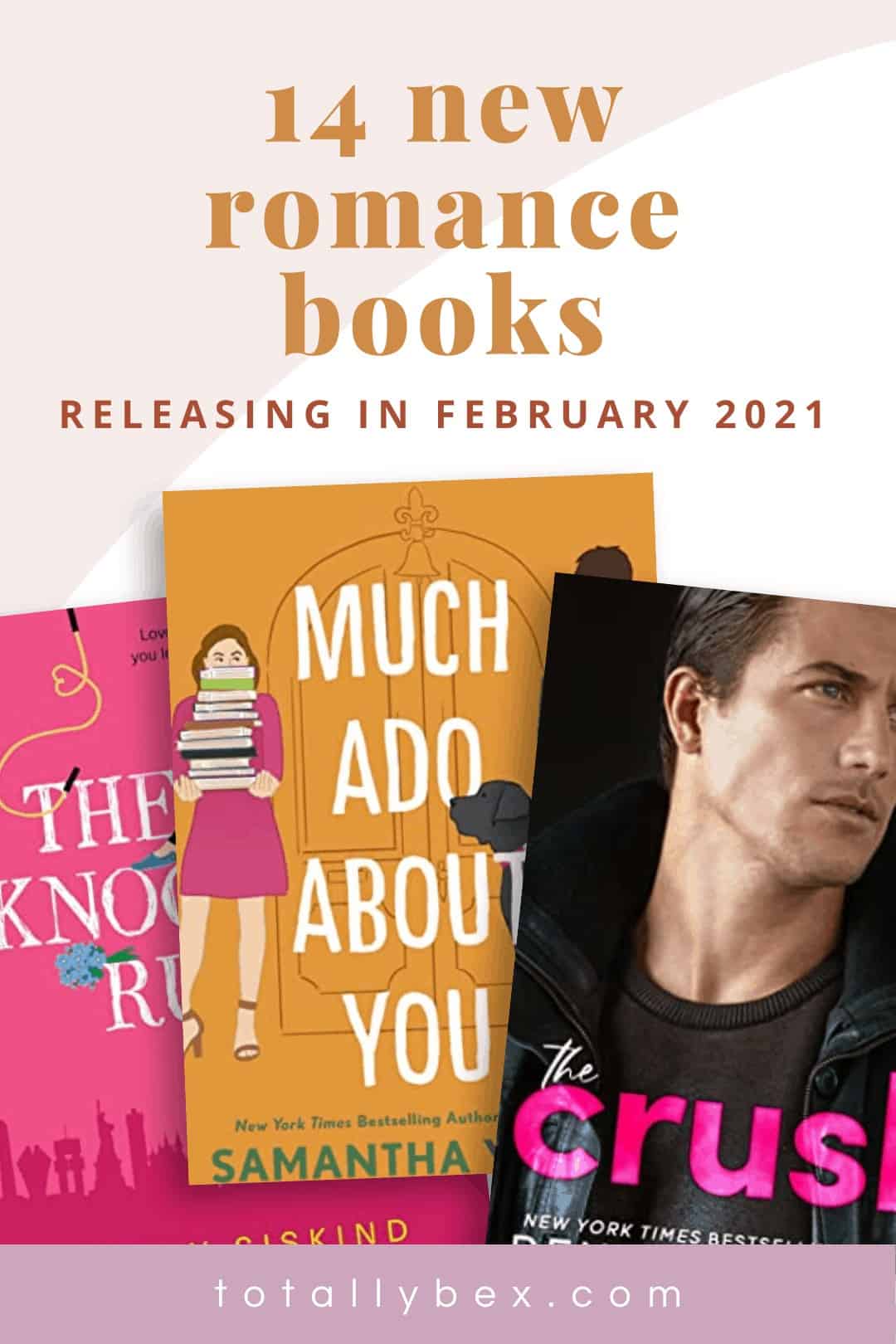 14 New Romance Books for February 2021
This month, there are rom-coms, suspenseful reads, and a few historical romances for you to enjoy.
Be sure to click the "About the Book" label below the book to read the synopsis and use the buttons to head to Goodreads to add it to your TBR or to Amazon to grab a copy.
If you're interested in new releases that are also in Kindle Unlimited, Joy at HEANovelThoughts has a list for you!
I've been best friends with Beacon since we were kids. We shared everything, even our first kiss.

Now that we're adults, Beacon's been cockblocking me on my quest to find Mr. Right. No matter how hard I try to find love, he's always getting in the way.

My shy, awkward exterior doesn't help. After all, Beacon's the cool one, not me—I play the cello at Carnegie Hall, and he's a heartthrob.

The famous frontman of the band Too Far From Grace. Every woman wants him, every guy…either wants to be like him or wants him too.

I decide to play devil's advocate, and hire Beacon to teach me the dating ropes. Maybe if we work together, we can find me a guy we both approve of.

Except, moving to Baker's Creek to work on this experiment isn't working the way I planned. Seems like he's doing everything to convince me that I don't need a man. After all, I have him.
At thirty-three-years old Evangeline Starling's life in Chicago is missing that special something. And when she's passed over for promotion at work, Evie realizes she needs to make a change. Some time away to regain perspective might be just the thing. In a burst of impulsivity, she plans a holiday in a quaint English village. The holiday package comes with a temporary position at Much Ado About Books, the bookstore located beneath her rental apartment. There's no better dream vacation for the bookish Evie, a life-long Shakespeare lover.

Not only is Evie swept up in running the delightful store as soon as she arrives, she's drawn into the lives, loves and drama of the friendly villagers. Including Roane Robson, the charismatic and sexy farmer who tempts Evie every day with his friendly flirtations. Evie is determined to keep him at bay because a holiday romance can only end in heartbreak, right? But Evie can't deny their connection and longs to trust in her handsome farmer that their whirlwind romance could turn in to the forever kind of love.
A Lady's Formula for Love by Elizabeth Everett
Release Date: February 9, 2021
Lady Violet Hughes is keeping secrets. First, she founded a clandestine sanctuary for England's most brilliant female scientists. Second, she is using her genius on a confidential mission for the Crown. But the biggest secret of all? Her feelings for protection officer Arthur Kneland.

Solitary and reserved, Arthur learned the hard way to put duty first. But the more time he spends in the company of Violet and the eccentric club members, the more his best intentions go up in flames. Literally.

When a shadowy threat infiltrates Violet's laboratories, endangering her life and her work, scientist and bodyguard will find all their theories put to the test—and learn that the most important discoveries are those of the heart.
Chloe Wynchester is completely forgettable—a curse that gives her the ability to blend into any crowd. When the only father she's ever known makes a dying wish for his adopted family of orphans to recover a missing painting, she's the first one her siblings turn to for stealing it back. No one expects that in doing so, she'll also abduct a handsome duke.

Lawrence Gosling, the Duke of Faircliffe, is tortured by his father's mistakes. To repair his estate's ruined reputation, he must wed a highborn heiress. Yet when he finds himself in a carriage being driven hell-for-leather down the cobblestone streets of London by a beautiful woman who refuses to heed his commands, he fears his heart is hers. But how can he sacrifice his family's legacy to follow true love?
If you knew beyond all doubt that one chance encounter would change the course of your future, what would you choose?

There's nothing like a spring day in Boston to make your heart sing. I'm out with my girls, having drinks in a bar, enjoying the bright pulse of our beautiful city, when I see Caleb. The second my eyes meet his, I know this is the moment when everything will change. All I have to do is choose him.

I meet Whitney on the worst day of my life. I've always been an adrenaline junkie, but I never knew how fast things could change. Her soft gaze melts my cynicism, makes me forget the bitter man I was becoming. She makes me want to be the version of myself that I see in her eyes. All she has to do is choose this life.
Beauty expert and influencer Jia Ahmed has her eye on the prize: conquering the internet today, the entire makeup industry tomorrow, and finally, finally proving herself to her big opinionated family. She has little time for love, and even less time for the men in her private messages—until the day a certain international superstar slides into her DMs, and she falls hard and fast.

There's just one wrinkle: he has no idea who she is.

The son of a powerful Bollywood family, soap opera star Dev Dixit is used to drama, but a strange woman who accuses him of wooing her online, well, that's a new one. As much as he'd like to focus on his Hollywood fresh start, he can't get Jia out of his head. Especially once he starts to suspect who might have used his famous name to catfish her…

When paparazzi blast their private business into the public eye, Dev is happy to engage in some friendly fake dating to calm the gossips and to dazzle her family. But as the whole world swoons over their relationship, Jia can't help but wonder: Can an online romance-turned-offline-fauxmance ever become love in real life?
I've signed numerous players to my family's agency—I assumed winning over my next client would be just as easy.

The last thing I expected was to run into the boy who took my first kiss and broke my heart: only now Drew Bowman is all grown up.

Sexy. Scandal-tainted. Second-string. The crush I never got over.

I tell myself work is the reason I can't get him out of my head. I tell him his talent far outweighs his position, and I know I can help. I lie and lie, because admitting that I want a second chance at my first love is impossible.

Some lines cannot be crossed, and ours was drawn in the sand years ago.

***

I'm supposed to hate her.

I've been told so time and again for ten years – her father ruined our family, smeared my name before my career even began.

But that's not what I'm feeling now.

Brexton Kincade just strode out of my memories and onto my field.

Driven. Determined. Grown up. The Capulet to my Montague.

Being with her would be an unforgivable sin against my father, but I can't resist the pull between us. Even if it means hiding what we have. Even if it means confronting the secrets I've always feared were lies.
It's natural to want the one you can't have. And for as long as I could remember, I'd secretly wanted my brother's best friend, Jace.

He was six years older and always treated me like the sister he never had.

Fast forward a decade.

We were all in our twenties now. Jace had moved in with my brother, Nathan, and me to help us make ends meet after our parents died.

It was just the three of us—an odd family dynamic.

Living under our roof, Jace was as bossy and protective as ever.

But he certainly didn't look at me like a sister anymore. That was what made things so complicated.

I was pretty much hot and bothered twenty-four-seven.

And he was torn.

The signs were subtle, at first. Like on movie night, I'd casually rest my leg against his, and he wouldn't exactly shift away.

Still, I assumed he would never…go there.

Nathan would kill us.

The knowledge of that wasn't enough to stop the inevitable, though.

Eventually our slow burn exploded.

But more than the physical attraction, we'd developed a strong connection.

We just couldn't get caught, right?

That sounded simple.

Until it wasn't.
Some say I can be ruthless.
Nyla Kincaid is about to find out.
I allowed her to get too close and in the end, she burned me.

To keep the secrets of the Elite, I seduced her.
The distraction worked, but like a moth to a flame, I singed my wings.

She will pay for my mistake. And I will never repeat it.

Meting out my revenge will be so sweet.
And this time, I will not take care with her heart. 
Sixteen years ago, a teenaged Will Sterling saw–or rather, heard–the girl of his dreams. Standing beneath an apartment building balcony, he shared a perfect moment with a lovely, warm-voiced stranger. It's a memory that's never faded, though he's put so much of his past behind him. Now an unexpected inheritance has brought Will back to that same address, where he plans to offload his new property and get back to his regular life as an overworked doctor. Instead, he encounters a woman, two balconies above, who's uncannily familiar…

No matter how surprised Nora Clarke is by her reaction to handsome, curious Will, or the whispered pre-dawn conversations they share, she won't let his plans ruin her quirky, close-knit building. Bound by her loyalty to her adored grandmother, she sets out to foil his efforts with a little light sabotage. But beneath the surface of their feud is an undeniable connection. A balcony, a star-crossed couple, a fateful meeting–maybe it's the kind of story that can't work out in the end. Or maybe, it's the perfect second chance.
Twenty-eight-year-old Georgia Stanton has to start over after she gave up almost everything in a brutal divorce—the New York house, the friends, and her pride. Now back home at her late great-grandmother's estate in Colorado, she finds herself face-to-face with Noah Harrison, the bestselling author of a million books where the cover is always people nearly kissing. He's just as arrogant in person as in interviews, and she'll be damned if the good-looking writer of love stories thinks he's the one to finish her grandmother's final novel…even if the publisher swears he's the perfect fit.

Noah is at the pinnacle of his career. With book and movie deals galore, there isn't much the "golden boy" of modern fiction hasn't accomplished. But he can't walk away from what might be the best book of the century—the one his idol, Scarlett Stanton, left unfinished. Coming up with a fitting ending for the legendary author is one thing, but dealing with her beautiful, stubborn, cynical great-granddaughter, Georgia, is quite another.

But as they read Scarlett's words in both the manuscript and her box of letters, they start to realize why Scarlett never finished the book—it's based on her real-life romance with a World War II pilot, and the ending isn't a happy one. Georgia knows all too well that love never works out, and while the chemistry and connection between her and Noah is undeniable, she's as determined as ever to learn from her great-grandmother's mistakes—even if it means destroying Noah's career.
The Knockout Rule by Kelly Siskind
Release Date: February 24, 2021
Growing up with an adoring father for a boxing legend isn't all sunshine and rainbows. It looks more like hospital visits, bloody noses, and cracked ribs.

Isla Slade now works as a physiotherapist, helping athletes heal their bodies. Except for boxers. She has no interest in reliving the stress of her teen years. Dating someone in the boxing world? She'd rather snort wasabi powder.

Until she meets Preston Church.

Preston manages heavyweight boxing darling Brick Kramarov. A brute who's built tougher than his name, with a cocky attitude to boot. She wants nothing to do with either man, but her father begs her to help them prepare for a huge Vegas fight.

She doesn't expect Preston to recite romantic poems and slowly break her resolve. His fascinating mind gets under her skin, even if his star athlete reminds her how much she hates boxing.

Too bad it's Brick coaching Preston how to woo Isla, falling for her from the sidelines. Once she finds out, she'll have to decide if she can risk loving another man who puts it all on the line for the knockout.
Are any of these books on your TBR?  I'd love to hear what's on your list for February, so leave me a comment below!