13 New Romance Books for March 2021
This post contains affiliate links. If you make a purchase using that link, I will receive a small commission from the sale at no additional cost to you.
A new month means brand-spankin' new books to add to our TBRs, e-readers, and bookshelves.  Who else gets excited about new books? 
I've got a hot new list of 13 New Romance Books for March 2021 that's filled with books you're sure to love! 
Several of these romance books are from favorite authors I have read before, so I am excited to get new material from them.  A couple are from new-to-me authors and I am looking forward to read them, too.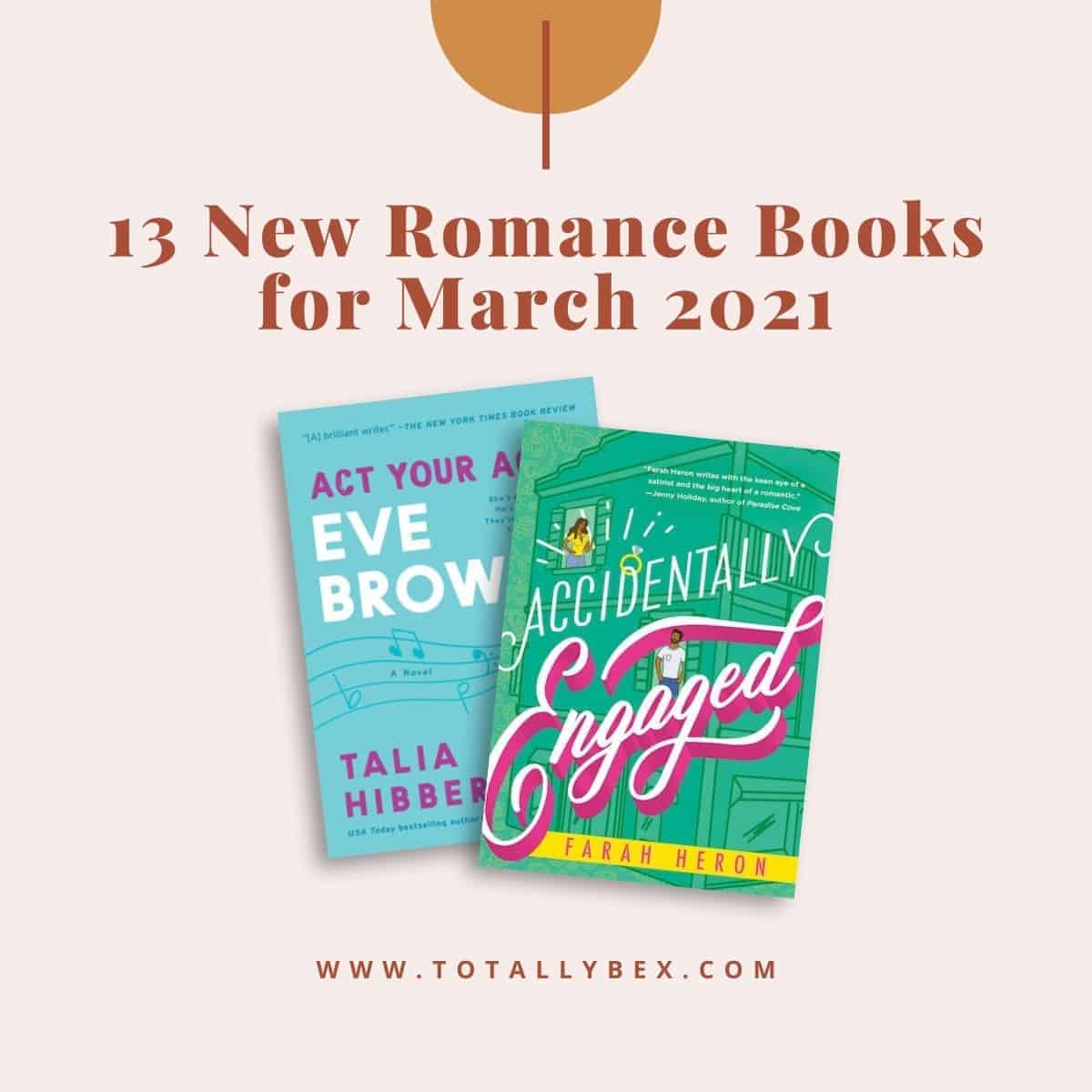 13 New Romance Books for March 2021
This month, there are several contemporary romance novels, a couple of historical romance books, a romantic suspense book, and even a cozy mystery for you to explore.
Be sure to click the "About the Book" label below the book to read the synopsis and use the buttons to head to Goodreads to add it to your TBR or to Amazon to grab a copy.
If you're interested in new releases that are also in Kindle Unlimited, Joy at HEANovelThoughts has a list for you!
Reena Manji doesn't love her career, her single status, and most of all, her family inserting themselves into every detail of her life. But when caring for her precious sourdough starters, Reena can drown it all out. At least until her father moves his newest employee across the hall–with hopes that Reena will marry him.

But Nadim's not like the other Muslim bachelors-du-jour that her parents have dug up. If the Captain America body and the British accent weren't enough, the man appears to love eating her bread creations as much as she loves making them. She sure as hell would never marry a man who works for her father, but friendship with a neighbor is okay, right? And when Reena's career takes a nosedive, Nadim happily agrees to fake an engagement so they can enter a couples video cooking contest to win the artisan bread course of her dreams.

As cooking at home together brings them closer, things turn physical, but Reena isn't worried. She knows Nadim is keeping secrets, but it's fine— secrets are always on the menu where her family is concerned. And her heart is protected… she's not marrying the man. But even secrets kept for self preservation have a way of getting out, especially when meddling parents and gossiping families are involved.
Float Plan by Trish Doller
Contemporary Romance | Adventure Romance
Release Date: March 2, 2021
Since the loss of her fiancé, Anna has been shipwrecked by grief—until a reminder goes off about a trip they were supposed to take together. Impulsively, Anna goes to sea in their sailboat, intending to complete the voyage alone.

But after a treacherous night's sail, she realizes she can't do it by herself and hires Keane, a professional sailor, to help. Much like Anna, Keane is struggling with a very different future than the one he had planned. As romance rises with the tide, they discover that it's never too late to chart a new course.

In Trish Doller's unforgettable Float Plan, starting over doesn't mean letting go of your past, it means making room for your future. 
Marriage and Murder by Penny Reid
Contemporary Romance | Cozy Mystery
Release Date: March 2, 2021
The Devil is in the details . . .

Cletus Byron Winston wishes to marry Jennifer Anne Donner-Sylvester (aka The Banana Cake Queen) posthaste! He's spent the last year wanting nothing more than for the celebrations to be brief, libations flowing, and BYOB (bring your own blueberries). His future mother-in-law has other plans, plans his intended has been willing to indulge, much to Cletus's chagrin. Therefore, so must he. To a point. But truth be told, he wouldn't mind if the meddlesome matriarch disappeared, at least until the nuptials are over.

On the night of Cletus and Jenn's long-awaited engagement party, just when the surly schemer is of a mind to take matters into his own hands, a shocking event upends everyone's best laid plans and sends the small hamlet of Green Valley into complete disarray. The final months leading up to Cletus and Jenn's matrimonial bliss are plagued with chaos and uncertainty. Will Cletus and Jenn finally make it to the altar? Or will murder and mayhem derail their happily-ever-after?
And most importantly, who done it?
Everyone knows Miz Poppy, the vibrant reviewer whose commentary brightens the New Orleans nightlife. But no one knows Hollyn, the real face behind the media star…or the fear that keeps her isolated. When her boss tells her she needs to add video to her blog or lose her job, she's forced to rely on an unexpected source to help her face her fears.

When aspiring actor Jasper Deares finds out the shy woman who orders coffee every day is actually Miz Poppy, he realizes he has a golden opportunity to get the media attention his acting career needs. All he has to do is help Hollyn come out of her shell…and through their growing connection, finally find her voice.
Eve Brown is a certified hot mess. No matter how hard she strives to do right, her life always goes horribly wrong—so she's given up trying. But when her personal brand of chaos ruins an expensive wedding (someone had to liberate those poor doves), her parents draw the line. It's time for Eve to grow up and prove herself—even though she's not entirely sure how…

Jacob Wayne is in control. Always. The bed and breakfast owner's on a mission to dominate the hospitality industry—and he expects nothing less than perfection. So when a purple-haired tornado of a woman turns up out of the blue to interview for his open chef position, he tells her the brutal truth: not a chance in hell. Then she hits him with her car—supposedly by accident. Yeah, right.

Now his arm is broken, his B&B is understaffed, and the dangerously unpredictable Eve is fluttering around, trying to help. Before long, she's infiltrated his work, his kitchen—and his spare bedroom. Jacob hates everything about it. Or rather, he should. Sunny, chaotic Eve is his natural-born nemesis, but the longer these two enemies spend in close quarters, the more their animosity turns into something else. Like Eve, the heat between them is impossible to ignore—and it's melting Jacob's frosty exterior. 
After enduring five interminable seasons, Lottie Carlisle has had enough of shallow London society, her boring little life, and her uncle Alfred's meddling. When he demands she accept a proposal by the end of next season or else he will choose a husband for her, she devises a plan: create a scandal shocking enough to make her unmarriageable and spend her spinsterhood far enough away in the countryside where no one will ever recognize her.

Alec Gresham hasn't seen Lottie since he left his childhood friend without a word five years ago. So he's not surprised to find her furious when he appears on her doorstep. Especially bearing the news he brings: her uncle is dying, her blasted reputation is still intact, and Lottie must return home. As they make the journey back to her family estate, it becomes increasingly clear that the last five years hasn't erased their history, nor their explosive chemistry. Can Lottie look past her old heartache and trust Alec, or will his secrets doom their relationship once again?
The Devil in Her Bed by Kerrigan Byrne
Release Date: March 9, 2021
He lives in secret service to the Crown—a man of duty, deception, and an undeniable attraction to a woman who threatens to tear his whole world apart.

They call him the Devil of Dorset. He stands alone, a man of undeniable power. Moving in and out of shadows, back alleys and ballrooms, he is unstoppable and one of the Crown's most dangerous weapons. However, when he sets his sights on the undeniably beautiful Countess of Mont Claire, Francesca Cavendish, he doesn't realize that he has met a match like no other.

TRUE LOVE WEARS NO DISGUISE

Francesca is a countess by day and stalks her prey—those responsible for the death of her family—by night. What she does not expect is to be thrown into the path of the devil himself, the Earl of Devlin. She has secrets of her own and he seems determined to lay them bare. Can her heart survive finding the love of her life and losing him when all is revealed?
Give Love a Chai by Nanxi Wen
Release Date: March 16, 2021
Tia Wang's Wedding Planning To-Do List:
1. Find the perfect dress
2. Win her future mother-in-law's approval
3. Divorce her not-so-ex husband, Andrew Parker

When she fell in love and married her childhood best friend on a whim in Vegas, Tia innocently thought love conquered all. Turns out, that was a crushing lie. Her world shattered as she and Andrew were torn apart by secrets and mistakes.
Ten years later, Tia has left the pain behind and carved out a new life with Mr. Perfect. The only thing standing between her and happily ever after? A divorce from Andrew.

It should have been easy for Andrew to sign his name on the dotted line. Independent, prickly, and always in control, Andrew has done everything to escape his past. But seeing Tia on his doorstep after all these years? He can't help wondering what might have been. Andrew has never forgotten Tia and vows to fight for their relationship this time around. If he has to hold those divorce papers hostage to get his second chance, he will.

Feelings resurface, stronger and more complex than ever. But Tia and Andrew have more than Mr. Perfect between them. Can they overcome past mistakes to forge a future together, or will new threats ruin their second chance at forever?
Mad About Ewe by Susannah Nix
Release Date: March 16, 2021
Dawn Botstein is doing just fine after her divorce, thank you very much.

She's got her yarn store to run, her house to herself for the first time in her life, and no use for men anymore. That is until the hottie silver fox who walks into her store turns out to be her old high school crush—the guy who rejected her 30 years ago.

No way is she going to lose her head over him this time, no matter how well he wears that salt-and-pepper lumberjack beard. Okay, so he's the opposite of her ex in every way, and his attention gives her a thrill she thought she'd never feel again. She's not risking her heart again.

Mike Pilota is having a mid-life crisis.

Only instead of buying a red sports car he can't afford and dressing like a 25-year-old who's time-traveled from the 1990s, he quit his job after his second divorce to move closer to his recently widowed mother.

He didn't expect to run into Dawn again, but as soon as he lays eyes on her he's utterly smitten. So he sets out to make up for past mistakes and prove he can be the kind of man she deserves.

But is it too late for second chances? Or will these two lonely hearts find a way back to each other?
The Songbook of Benny Lament by Amy Harmon
Historical Romance | Musician
Release Date: March 16, 2021
New York, 1960: For Benny Lament, music is his entire life. With his father's deep ties to the mob, the Bronx piano man has learned that love and family can get you in trouble. So he keeps to himself, writing songs for other musicians, avoiding the spotlight…until the night his father brings him to see Esther Mine sing.

Esther is a petite powerhouse with a gorgeous voice. And when Benny writes a hit song and performs it with her, their collaboration thrusts the duo onto the national stage…and stirs up old issues and new scrutiny that the mob—and Benny—would rather avoid.

It would be easier to walk away. But the music and the woman are too hard for the piano man to resist. Benny's songs and Esther's vocals are an explosive combination, a sound that fans can't get enough of. But though America might love the music they make together, some people aren't ready for Benny Lament and Esther Mine on—or off—the stage.
To Have and to Hate by RS Grey
Contemporary Romance | Marriage of Convenience
Release Date: March 18, 2021
Marry a man I barely know to save my family from ruin.
It might've been simple, if my betrothed were anybody else.
On our wedding day, my husband-to-be arrived at the courthouse like a black cloud rolling over Manhattan. Walt didn't crack smiles or pepper in pleasantries as we exchanged hollow vows in front of the judge.
His disdain for me was so palpable I assumed we'd walk out of that ceremony and resume our regularly scheduled programming. But then fate was like, Hold my beer. I got this.
In desperate need of help and with nowhere else to turn, I had no choice but to ignore a crucial rule in our contract: I shall only contact Mr. Jennings II in case of emergency. But hey, what's a little fine print between husband and wife?
Turns out, Walt's a stickler for legalese—I think it might be his love language. Oh, and his attitude at the courthouse wasn't a put-on. My so-called husband is a jerk. He takes what he wants without giving any consideration to other people—specifically ME, his blushing, contractually-obligated bride!
I knew life with Walt would be no honeymoon, but a marriage of any sort should still come with a few standard guarantees:
To have and to hold.
For richer or poorer.
In sickness and in health.
But after experiencing Walt's version of wedded bliss, I say let's forget about all that lovey-dovey crap and just take me straight to death do us part.
Romantic Suspense | Mystery
Release Date: March 30, 2021
When former forensic photographer Miranda Rhoads moves to the seaside town of Lost Beach, she's decided to make her living as a wildlife photographer and put crime scenes behind her. But her plans are quickly upended when one morning, she comes across a couple sleeping in a canoe, entwined in an embrace. Looking closer, she realizes the man and woman aren't asleep–they've been murdered.

Detective Joel Breda sets out to find answers–not only about the unidentified victims in the marshy death scene, but also about the aloof and beautiful photographer who seems to know more about his investigation than he does.

As they begin to unravel the motivation of a merciless serial killer, Miranda and Joel must race against the clock to make an arrest before the killer can find them first.
Hard to Lose by K Bromberg
Release Date: March 30, 2021
It was a simple letter lost in transit. A thank you and an apology received five years too late.

Something about that letter from the baseball pitching phenom turned enlisted soldier, wouldn't let go of Chase Kincade.

She had to know how his story ended.
Did any of these romance books strike your fancy?  I'd love to hear what's on your list for March, so leave me a comment below!