14 New Romance Books for August 2021
This post contains affiliate links. If you make a purchase using that link, I will receive a small commission from the sale at no additional cost to you.
Summer is still in full swing here in eastern Tennessee, and I am loving the warm weather and slower pace of life. Long lazy days at home with the kids—who are already dreading their return to school in a month—are making my mama heart happy right now.
Know what else makes my heart happy? New books! There are so many good books coming out in August. I've already read an early copy of The Heart Principle by Helen Hoang, and I loved it. That's definitely one to pre-order!
Here are the 14 New Romance Books for August 2021 that I am adding to my TBR this month and are my most-anticipated romance book releases this month.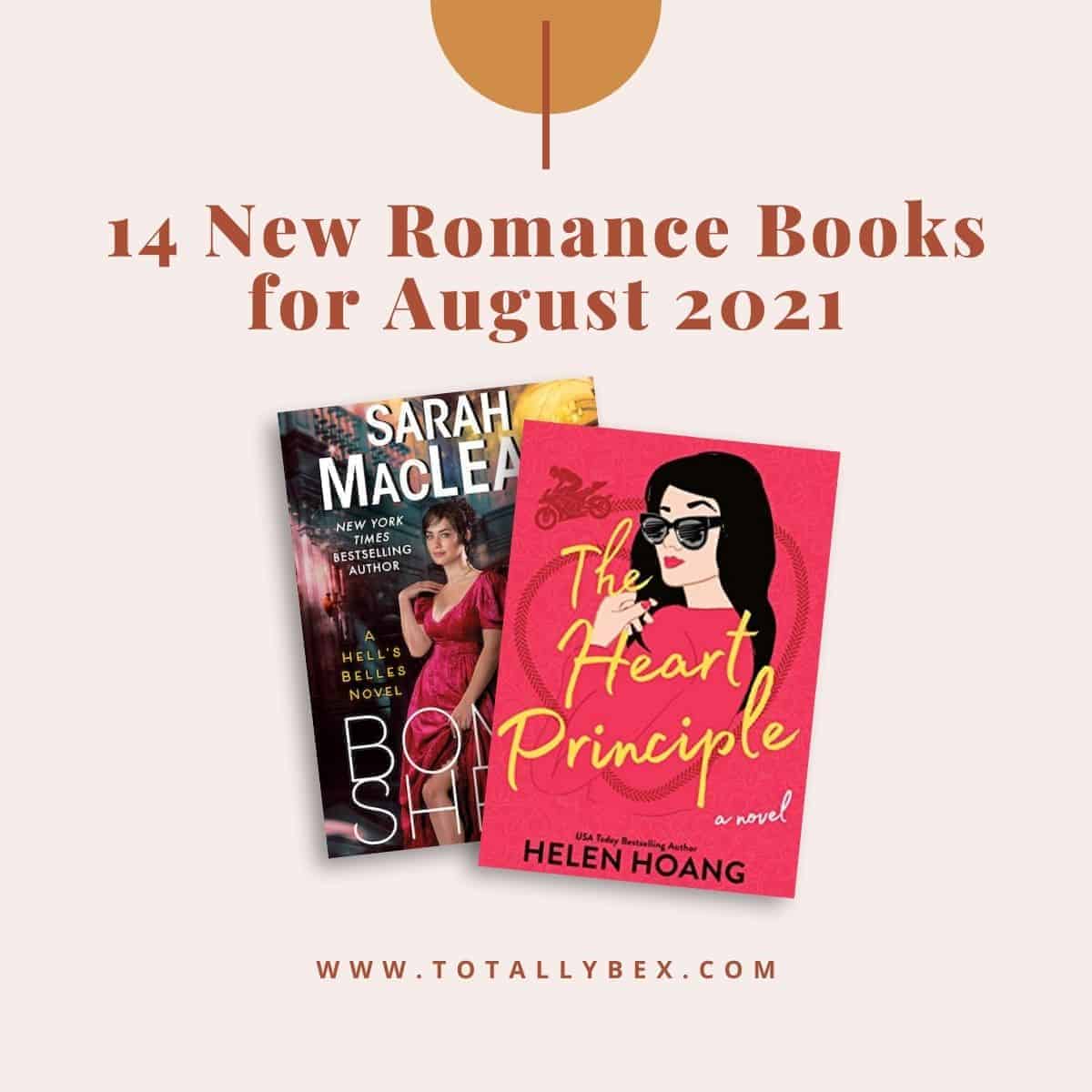 14 New Romance Books for August 2021
This month, there are several contemporary romance novels, a couple of historical romance books, a fantasy romance or two, and a romantic suspense to add to your TBR.
Be sure to click the "About the Book" label below the book to read the synopsis and use the buttons to head to Goodreads to add it to your TBR or to Amazon to grab a copy.
If you're interested in new releases that are also in Kindle Unlimited, Joy at HEANovelThoughts has a list for you!
For decades, Eden has remained hidden in the remote wilds of the Pacific Northwest, "Pastor" keeping his cult's followers in thrall for his personal profit and sexual pleasures. But the Founding Elders are splintering, and Pastor's surrogate son DJ is scheming to make it all his own.

When two of Eden's newest members send out a cry for help, it reaches FBI Special Agent Tom Hunter, whose friend and fellow FBI Special Agent Gideon Reynolds and his sister, Mercy, are themselves escapees of the Eden cult, targeted by the Founding Elders who want them silenced forever. The three have vowed to find the cult and bring it down, and now, they finally have a solid lead.

Neutralizing Eden's threat will save captive members and ensure Tom's new friends can live without fear. But when his best friend, ex-Army combat medic Liza Barkley, joins the case, it puts her life—and their blossoming love—in danger. With everything they hold dear in the balance, Tom and Liza, together with Gideon and Mercy, must end Eden once and for all. 
Sidequest for Love by L.H. Cosway
Release Date: August 3, 2021
Being an avid online gamer, Afric O' Connor loves a challenge. Helping Neil Durant reveal himself to the girl he's been catfishing makes for the perfect sidequest. Besides, it's not like she isn't getting something in return. Neil has a head for numbers and Afric's finances are a mess. It's the perfect exchange. She assists him with his love life, and he sorts out her accounts.

As they spend more time together, the arrangement becomes less simple. Afric soon realises that the girl Neil's been trying so hard to win over might not deserve him. And the buttoned up, bespectacled personal assistant she once considered a sidequest has somehow become her main objective.
Tara Park doesn't do serious relationships. Neither does she hop into bed with virtual strangers. Especially when that particular stranger is her best friend's new brother-in-law. It isn't an easy decision, though. Seth Kim is temptation personified. His unreasonably handsome looks and charming personality makes him easy on the eyes and good for her ego.

When a friendly game of Truth or Dare leads to an uncomplicated four-date arrangement with Seth, Tara can't say she minds. But their dates, while sweet and sexy, have a tendency to hit roadblocks. Thankfully, their non-dates and chance meetings get frequent and heated.

Seth is leaving for a new job in Paris in a month and a no-strings attached fling seemed like a nice little distraction for both… But soon Seth realizes that Tara Park doesn't come in a "nice & little" package–she's funny and bold, sweet and sexy, and everything he ever wanted and never expected to find. Neither of them are ready for something serious and both have past relationship baggage they've been ignoring, but with a shot at forever on the line will they follow their hearts and take a chance on happily-ever-after?
Just Not That Into Billionaires by Annika Martin
Release Date: August 10, 2021
Francine is stunned when she discovers she's been married – for the last ten years! – to Benny, the surly and nerdy frenemy she worked with one summer in Vegas.

How in the world did they end up married? They could hardly stand each other! Though there was that drunken night….

She tracks down Benny, sure he'll be as shocked about the marriage as she is, sure he'll be happy to dissolve their union ASAP so she can get the documents she desperately needs.

But Benny is now a cold and wolfish billionaire. And yes, he'll sign the paperwork…for a price: she has to spend the next three weeks playing his doting wife.
Miss Lattimore's Letter by Suzanne Allain
Release Date: August 10. 2021
Sophronia Lattimore had her romantic dreams destroyed years ago and is resigned to her role as chaperone for her cousin. Still, she cannot sit idly by when she becomes aware that a gentleman is about to propose to the wrong woman. She sends him an anonymous letter that is soon the talk of the town, particularly when her advice proves to be correct. Her identity is discovered and Sophie, formerly a wallflower, becomes sought after for her "expert" matchmaking skills.

One person who seeks her out is the eligible and attractive Sir Edmund Winslow. As Sophie assists Sir Edmund in his pursuit of a wife, she wishes she could recommend herself as his bride. However, she vows to remain professional and uninvolved while aiding him in his search (especially since the gentleman surely does not return her affections).

Three unexpected arrivals soon show up at Sophie's door—the man who once broke her heart, a newlywed who is dissatisfied with the match Sophie made for her, and the man madly in love with Sophie's cousin—all wanting her attention. But when her onetime beau and Sir Edmund both appear to be interested in her, Sophie can't figure out if she's headed for another broken heart­­ or for the altar. How can she be expected to help other people sort out their romantic lives when her own is such a disaster?
Stuck in a dreary Boston winter, Annabelle Martin would like nothing more than to run away from her current life. She's not even thirty years old, twice-divorced, and has just dodged a marriage proposal… from her ex-husband. When she's offered her dream job as creative director at a cutting-edge graphic design studio in Phoenix, she jumps at the opportunity to start over.

When she arrives in the Valley of the Sun, Annabelle is instantly intrigued by her anonymous landlord. Based on the cranky, handwritten notes Nick Daire leaves her, she assumes he is an old, rich curmudgeon. Annabelle is shocked when she finally meets Nick and discovers that he's her age and uses a wheelchair. Nick suffered from a stroke a year ago, and while there's no physical reason for him not to recover, he is struggling to overcome the paralyzing fear that has kept him a prisoner in his own home.

Despite her promise to herself not to get involved, Annabelle finds herself irresistibly drawn to Nick. And soon she wonders if she and Nick might help each other find the courage to embrace life, happiness, and true love.
Release Date: August 15, 2021
Shy, introverted Lucy Dennings lives a quiet little life in New York City, working for a nonprofit and keeping to herself. Every afternoon, she goes home to her empty apartment and Edgar, her houseplant, and every night, she loses herself in the pages of her beloved romance novels. Her lonely heart seeks solace in tales of passionate, enduring, all-consuming love, but more and more, Lucy feels she's not just reading for pleasure but searching for her a lost piece of herself in the pages. As if she once touched something beautiful but it's been ripped away.

Until one day Lucy discovers a dead body in the alley behind her apartment. Even if it's too late, her first instinct is to help.

Her second is to run.

Because the dead body isn't so very dead, and suddenly, her little world isn't so little but one in which dreams feel like memories, "inner demons" actually lurk in dark alleys, and a beautiful creature of darkness with amber eyes and wings like night might hold the key to what her heart has been aching for…if she doesn't fall down the path of eternal damnation first.
Ready…

Four years ago, Sylvie Fairchild charmed the world as a contestant on the hit baking show, Operation Cake. Her ingenious, colorful creations captivated viewers and intrigued all but one of the judges, Dominic De Vere, the hottest pastry chef in London. When her glittery unicorn cake went spectacularly sideways, Dominic was quick to vote her off the show. Since then, Sylvie has managed to use her fame to help fulfill her dream of opening a bakery, Sugar Fair. The toast of Instagram, Sugar Fair has captured the attention of the Operation Cake producers…and a princess.

Set…

Dominic is His Majesty the King's favorite baker, the go-to for sweet-toothed A-List celebrities, and a veritable British institution. He's brilliant, talented, hard-working. And an icy, starchy grouch. Learning that the irksome Sylvie will be joining him on the Operation Cake judging panel is enough to make the famously dour baker even more grim. Her fantastical baking is only slightly more troublesome than the fact that he can't stop thinking about her pink-streaked hair and irrepressible dimple.

Match…

When Dominic and Sylvie learn they will be fighting for the once in a lifetime opportunity to bake a cake for the upcoming wedding of Princess Rose, the flour begins to fly as they're both determined to come out on top.

The bride adores Sylvie's quirky style. The palace wants Dominic's classic perfection.

In this royal battle, can there be room for two?
When a personal trainer agrees to fake date her client, all rules are out the window in this delightful romantic comedy from the USA Today bestselling author of The Boyfriend Project!

When it comes to personal training, Taylor Powell kicks serious butt. Unfortunately, her bills are piling up, rent is due, and the money situation is dire. Taylor needs more than the support of her new best friends, Samiah and London. She needs a miracle.

And Jamar Dixon might just be it. The oh-so-fine former footballer wants back into the NFL, and he wants Taylor to train him. There's just one catch — no one can know what they're doing. But when they're accidentally outed as a couple, Taylor's game plan is turned completely upside down. Is Jamar just playing to win . . . or is he playing for keeps?
Bombshell by Sarah MacLean
Release Date: August 24, 2021
After years of living as London's brightest scandal, Lady Sesily Talbot has embraced the reputation and the freedom that comes with the title. No one looks twice when she lures a gentleman into the dark gardens beyond a Mayfair ballroom…and no one realizes those trysts are not what they seem.

No one, that is, but Caleb Calhoun, who has spent years trying not to notice his best friend's beautiful, brash, brilliant sister. If you ask him, he's been a saint about it, considering the way she looks at him…and the way she talks to him…and the way she'd felt in his arms during their one ill-advised kiss.

Except someone has to keep Sesily from tumbling into trouble during her dangerous late-night escapades, and maybe close proximity is exactly what Caleb needs to get this infuriating, outrageous woman out of his system. But now Caleb is the one in trouble, because he's fast realizing that Sesily isn't for forgetting…she's forever. And forever isn't something he can risk.
The Aristocrat by Penelope Ward
Release Date: August 30, 2021
The one that got away. Every girl has one, right?
Mine was a charming, British aristocrat who turned my world upside down one summer.
From the moment I first spotted Leo in the distance through my binoculars, I'd been captivated. I certainly never expected to find a man showering outside of the property across the bay in his birthday suit.
Then I noticed his housemate staring back at me with binoculars of his own—watching me watching Leo.
That made for an interesting conversation starter when I inevitably ran into them.
Turned out, the handsome Brits were only renting that house for the summer in my seaside town.
Leo and I formed an instant connection, even though we were technically opposites by all appearances. I taught him how to dig for clams, and he taught me that not all wealthy and powerful guys are pretentious.
Despite knowing he was totally wrong for me, I couldn't seem to stay away.
It was a wild and crazy few months. And before I knew it, we'd fallen in love.
We both had one wish: more time together.
But Leo had obligations back home. He lived a life I'd never fit into. And I was going to law school. So, we decided to end it and never look back.
A part of me always felt like I'd let my soulmate walk away.
I believed our story was over.
Until five years later when he sent me a letter that shook me to my core.
I'd thought my world was turned upside down that first summer?
Well, I knew nothing yet.
The Heart Principle by Helen Hoang
Release Date: August 31, 2021
When violinist Anna Sun accidentally achieves career success with a viral YouTube video, she finds herself incapacitated and burned out from her attempts to replicate that moment. And when her longtime boyfriend announces he wants an open relationship before making a final commitment, a hurt and angry Anna decides that if he wants an open relationship, then she does, too. Translation: She's going to embark on a string of one-night stands. The more unacceptable the men, the better.

That's where tattooed, motorcycle-riding Quan Diep comes in. Their first attempt at a one-night stand fails, as does their second, and their third, because being with Quan is more than sex—he accepts Anna on an unconditional level that she has just started to understand herself. However, when tragedy strikes Anna's family she takes on a role that she is ill-suited for, until the burden of expectations threatens to destroy her. Anna and Quan have to fight for their chance at love, but to do that, they also have to fight for themselves.
The Royals Next Door by Karina Halle
Release Date: August 31, 2021
Piper Evans: elementary school teacher by day–avid romance reader and anonymous podcaster by night. She lives a quiet, reclusive life, taking care of her mother, who struggles with mental illness, avoiding her regrettable ex, who bartends in town, and trying to make inroads in the tight-knit island community that still sees her, five years in, as an outsider.

And she's happy with how things are–really–until British royals rent the property next to hers and their brooding bodyguard decides she's a security threat. Piper quickly realizes that one person's fairy tale is an ordinary woman's nightmare as a media frenzy takes over the island and each run-in with Harrison Cole is hotter and more confusing than the last. But beneath Harrison's no-nonsense exterior lies a soft heart, one that could tempt a woman who's sworn off attachments into believing in white knights.

But when Piper finds herself smack in the middle of a royal scandal that rocks the island she'll need more than Harrison's strong arms to shield her–she'll have to do a little rescuing herself. With careers, hearts, and friendships on the line, Piper and Harrison will have to decide what they're willing to give up for a chance at their own happily ever after. 
Which books are on your list for August?  I'd love to hear from you, so leave me a comment below!